New Releases
April is a month of transition. With it comes spring showers, warmer longer days, and the hope of memorable sunny holidays in the not to distant future. But while it rains and storms, Vertical readers are best served staying inside amongst the comfort of their books. Whether thrilled and chilled by action and sci-fi works or inspired by the passion and abilities of the supernatural, Vertical readers have plenty of reason to read often this month!
AJIN volume 9 might be our most intense release yet. Now that may sound hyperbolic, but when you as a reader can experience the chaos and mayhem that went down in the Forge Security Building, you will marvel at the action, the creativity and the sheer madness that is the world of AJIN.
Sato's bitter. That as much is obvious. But he is also diabolical. The Battle of Forge Safety, which began when demi-humans who aim to upend Japanese society waltzed into an ambush set by those who would deny them the pleasure, reaches its crescendo and conclusion in this volume. It is Kei Nagai and Mr. Hat in a prolonged battle within a tower in lock-down. What could go wrong?!!
Meanwhile Devils' Line 6 turns up the drama. What is already one of the more compelling police stories in manga today, adds some new layers to the world of devils.
Ishimaru tries to bring in Zero Seven and Nine to get inside info on the CCC. In exchange for her cooperation, Zero Seven asks for information on the devil that murdered her mother, and the fateful meeting between Seven and Kikuhara is revealed. The house of an activist for devil rights is set on fire, and at the scene, Kikuhara pushes Anzai to remember his past…
After 7 volumes and countless esper battles, Tokyo ESP comes to an exciting conclusion. This final omnibus edition brings together the vast majority of the cast together one last time to fight over much more than the Greater Tokyo Metropolitan Area. These espers are waging a final battle and the whole world is at stake!
Once the board members of Ares have gathered, Claudia uses Touko to awaken the Messiah and receive its benediction—a massive magnification of her ESP—just as Rinka, Kobushi, Minami and Nadja storm in, setting off the biggest ESP battle in Tokyo's history. Then an old enemy shows up, and alliances are strained as allegiances are tested. Can Rinka and her friends take down the power-drunk Claudia before Tokyo is wiped off the map…?
In Immortal Hounds 4, the Escape Artists are in trouble! The police's vice is closing in on them and their secrets are about to be partially revealed.
Karigane adpots Rin's risky strategy to rescue Snow White from the UN's Vector containment facility, but not everything goes according to plan. A colleague starts to worry about Rin and discovers her diary, which includes secrets from her past as well as her current mission. And Shige considers early retirement when tragedy strikes home…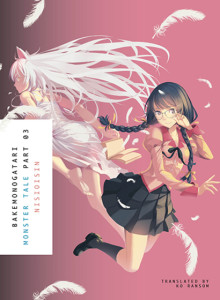 In the conclusion of NISIOISIN's BAKEMONOGATARI, part 3 focuses on a class president among class presidents. A bespectacled model student who soars to the top of honors lists without fail, Tsubasa Hanekawa also happens to be a decent human being. While she does have a habit of making single-minded assumptions, they come from a good place and turn out to be fortuitous as often as not.
Loser extraordinaire Koyomi Araragi owes her his post of class vice president and a more significant debt of gratitude for her unstinting support during the darkest spring break of his life. All of it has blinded him to the possibility that his saintly classmate's family situation might be no less adverse than that of his other lady friends.
Thus, at last, we face Hanekawa's unlikely aberration in "Tsubasa Cat"—the concluding part of the legendary novel that captured the sensibilities of a new generation in the aught years and spawned an animated series that has won international popularity and acclaim—before the story continues with a Fake Tale…
---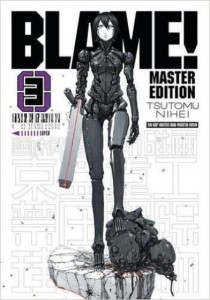 BLAME! Returns
Last year, cyberpunk fans across the globe rejoiced when we announced the return of BLAME! via our new Master Edition collection. The new oversized editions have the gravity and heft of something bigger than life, which is an appropriate way to describe Nihei's massive futuristic universe.
Next month that universe will be moving from the page to the screen, as NETFLIX will be releasing a new feature length film adaptation of Tsutomu Nihei's masterwork. Produced by Polygon Pictures, BLAME! will feature updated art that is more in line with Mr. Nihei's current aesthetics.
Full of action and stunning visuals this new retelling of this legendary work is bound to create a whole new generation of Toha Industry supporters!
---
Future Releases:
And here is what to expect over the next few months:
Shuka Matsuda and Nakaba Suzuki, Seven Deadly Sins (Light Novel) (May 2017)
NISIOISIN's NISEMONOGATARI (June 2017)
Katsuyuki Sumizawa and Tomofumi Ogasawara, Mobile Suit Gundam WING: Glory of the Losers (July 2017)
Yui Tokiumi and Naoshi Arakawa, Your Lie in April (Light Novel) (July 2017)
Makoto Shinkai and Tsubasa Yamaguchi, She and Her Cat (August 2017)
---
Image Copyrights – All Rights Reserved
BLAME! 3 © 2017 Tsutomu Nihei; BAKEMONOGATARI, Part 3 © 2006 NISIOISIN; AJIN: Demi-Human 9 © 2017 Gamon Sakurai; Devils' Line 6 © 2017 Ryo Hanada; Immortal Hounds 4 © Ryo Yasohachi 2016; Tokyo ESP 8 © Hajime SEGAWA 2016. All Rights Reserved