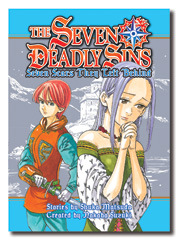 A heinous act of treason. Two young friends know what really happened—but can't tell!
Vertical's light novel for May presents the backstory to "The Seven Deadly Sins," the hit manga series and anime (currently streaming on Netflix). THE SEVEN DEADLY SINS: SEVEN SCARS THEY LEFT BEHIND travels 10 years into the past, before the start of the original story line, back to the time following the murder of Zaratras, the Captain of the Holy Knights. Accused of the crime are The Seven Deadly Sins, a legendary order of the mightiest of the Holy Knights serving the Kingdom of Liones. With the seven knights on the run, Princess Margaret and Gilthunder, Zaratras's son, carry the burden of the terrible truth about the betrayal. But fearing the consequences of revealing what they know, they can't speak of it, not even to each other. Which makes being friends pretty hard.
SEVEN SCARS THEY LEFT BEHIND consists of seven short prose stories, each from one of the exiled knights: Escanor, King, Merlin, Gowther, Ban, Diane, and Meliodas. These narratives add details and insights into the rich world of the comics, and feature many of your favorite characters from the series. But even if SEVEN SCARS THEY LEFT BEHIND is your first introduction to "The Seven Deadly Sins," you'll totally enjoy the mix of fantasy, romance, adventure, and humor that this collection offers. The book also includes cover art and ten pages of illustrations from Nakaba Suzuki, the comics' creator.