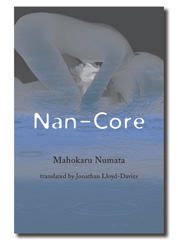 Soon after his mother dies, Ryosuke stops by to visit his father. Although the house seems to be empty, Ryosuke wanders from room to room, just to make sure. As he's leaving his father's study, he notices a slightly open closet door, with a jumble of old boxes inside. Curious, he opens the top box and finds a purse, a lock of hair. . . and four journals with notes that seem to be the confessions of a murderer.
So begins Nan-Core, a provocative new novel that explores the blurred line between a "good person" and a "bad person"—and what happens when the line is crossed. As Ryosuke reads the journals, he must question what's fact, what's fiction, and who are these people he's called "Mom" and "Dad?" In his search to discover the truth about his family, Ryosuke finds out some very disturbing truths about himself, and what he's capable of when he loses his moorings.
Click here for a preview, Q&A with the author, and Reader's Guide.