Last month we alerted you all of Vertical's plans for this fall. Big launches for Ninja Slayer and Tokyo ESP followed. A successful New York ComicCon also came out of what was a monstrously big October. But that was just the start of what is going to be a hearty and tasty fourth quarter.
This month is when things really begin to heat up. Two of Vertical's biggest hit-makers return after extended breaks. The English edition of one of Japan's top selling novels eve will finally hit stores. To top that all off, we bring you more comedic gold from a rising star of Japanese humor.
There is plenty to be thankful this month, and we would be very grateful if you choose to have Vertical be a part of your fall this year.
A November to be Thankful For
New Releases
Back in 2009, Vertical began an initiative to expand its manga catalog. Prior to then we had only worked with three mangaka, releasing around a pair of titles a year since 2004. Now we have more than 50 manga titles under our belt. The first title from that new wave, though, was Konami Kanata's Chi's Sweet Home. By far the best selling manga title in our list and one of the longer running ones, at that, Chi is finally coming to a close this month with what might be the most heart-wrenching releases we have ever put to print. It will be sad to see this series wrap up, but thankfully we'll be working more with Konami Kanata in the future. So that relationship will continue as we expand the North American cat comics market.
While Chi is big, our best selling authors are actually Aranzi Aronzo. The DIY duo from Osaka broke through globally not long after we introduced the Western world to The Cute Book and Cute Stuff. These collections of creepy-cute so-simple-it's-fun doll and accessory making books have become a cult hit over the years. Now, five years removed from their last hit The Cuter Book and a number of storefronts later, Aranzi returns to English world with another 40 or so patterns in their Cuter Stuff collection. Crafters of all experience levels will rejoice when they see all the new ideas Aranzi have come up with lately.
In My Neighbor Seki volume 5, Rumi Yokoi might have thought she could escape Seki's games while her class was on an extended field-trip. She possibly was being a little naive as Seki would not only continue his games on the road, he would even have his beloved Robot Family on the trip with him providing an addition bit of tension into Rumi's already stressful life. Now with essentially two field trips occurring at once, Rumi must find a way to split her time between watching over her favorite action figures and enjoying her edu-tainment with her classmates. This may be Seki's most diabolical project yet!
After a brief delay, Naoki Hyakuta's The Eternal Zero is now scheduled to land in stores this month. Already legendary for breaking sales records in Japan, it has been the subject of a lot of debate and media attention in and out of Asia since it launched in 2006. It is not often the West gets to see books of this magnitude translated so quickly, so we are certain it will cause a stir once it hits North American literature's radar.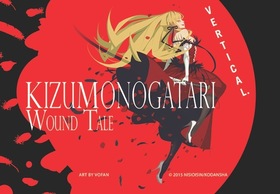 Listen to This!

At New York ComicCon last month Vertical made news when they announced their new line of audio light novels!
Coming Spring 2016 prose releases like KIZUMONOGATARI and Attack on Titan: Harsh Mistress of the City will make their way to MP3 players and eBook readers in the near future. Voiced by trained voice actors and enhanced by music and audio effects, these audio books should give fans new ways to experience their favorite series.
Details, such as when and where these books will debut, are still being worked out. But stay tuned to this newsletter for more information on this new and unique way to enjoy Japanese prose in English!
Future Releases:
So whether in audio or in print (or even digital) as you come together with family and friends this fall, we would be very thankful if you all would gather with a Vertical book (or two). We're certain they'll warm you up and satisfy any hunger for entertainment you'd have.
Image Copyrights – All Rights Reserved
My Neighbor Seki © Takuma Morishige 2014; Cuter Stuff © ARANZI ARONZO 2013; The Eternal Zero © Naoki Hyakuta 2006; Chi's Sweet Home © 2015 Konami Kanata; KIZUMONOGATARI © NISIOISIN 2015