It's summer time and as is often the case this season already has a been an ambitious one for Vertical, Inc. With a number of new releases, a range of new license announcements, and a now completed summer con tour over, there were plenty of topics to highlight for readers throughout the course of the summer.
We'll get to some of that news a little later. But, before we do, we wanted to remind you of our August 2015 releases: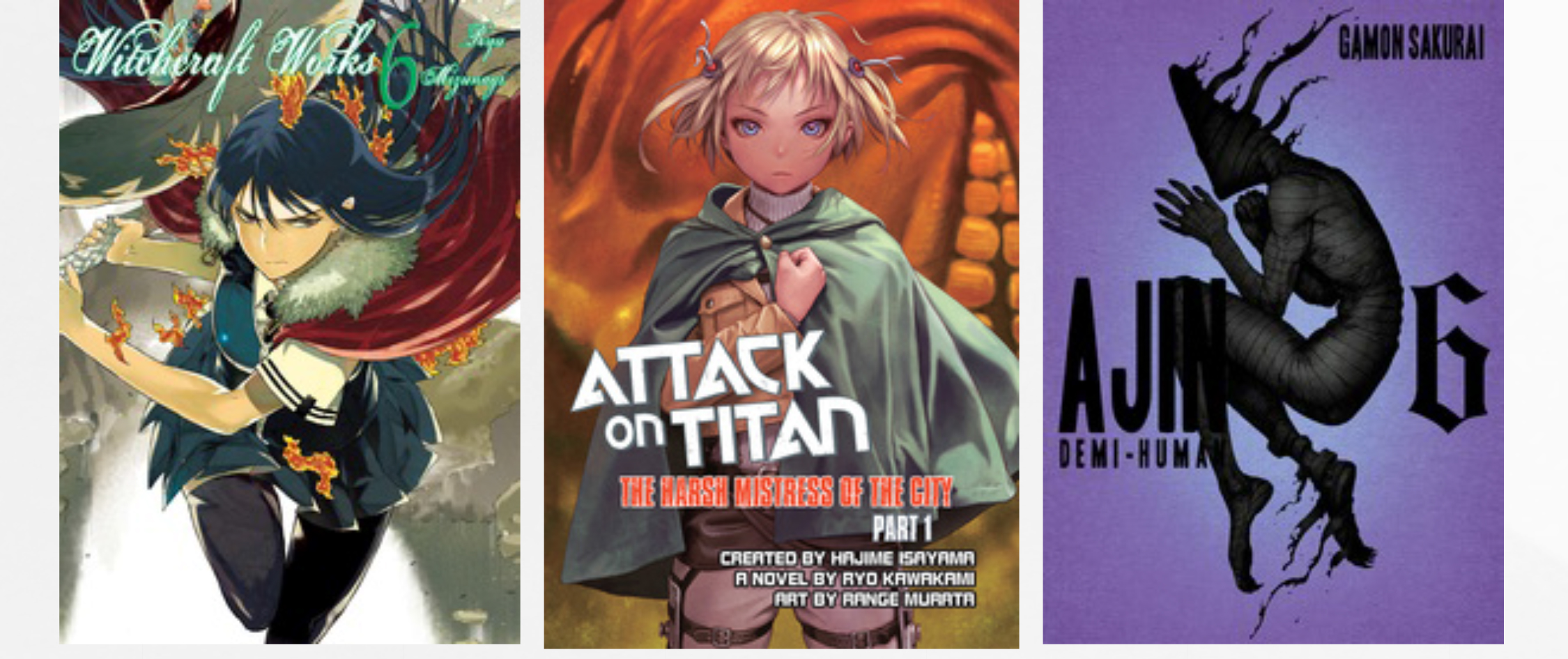 A Fantastic August
This August, Vertical is feeling fantastic! Sure, with titles like those found in our catalog we, and our readers, should always be feeling great, but this month we have three high quality fantasy and sci-fi tales that are particularly excellent!
Leading off the month is the sixth volume of Ryu Mizunagi's hit rom-com Witchcraft Works. Ayaka's battle with Weekend continues and it is quickly moving to its climax. But without a source of power for her magic will she be able to finally defeat this rogue bomb-wielding witch?
Meanwhile Kei Nagai and a handful of domestic demi-human are preparing to take on some truly rogue forces in volume 6 of Gamon Sakurai's AJIN. But before they embark on their mission, readers are treated to a brief flashback involving the lone woman amongst the demi-human corps. Sakurai takes readers back to Izumi's days as a high school teen when she first came to terms with her demi-human side. Her past is marked with tragedy. So it comes as no surprise to see her want to change others lives for the better. Especially those she feels she can trust.
When it came to trust, those within the fortress known as Wall Maria believed they were somewhat safe from Titan attacks. However in Ryo Kawakami's Attack on Titan: The Harsh Mistress of the City the walls have been breached and now titans roam what remains of the interior. A young trooper named Rita was on the frontlines, and after closing off gates in the interior, she will have to find a way to get inside Wall Rose to safety.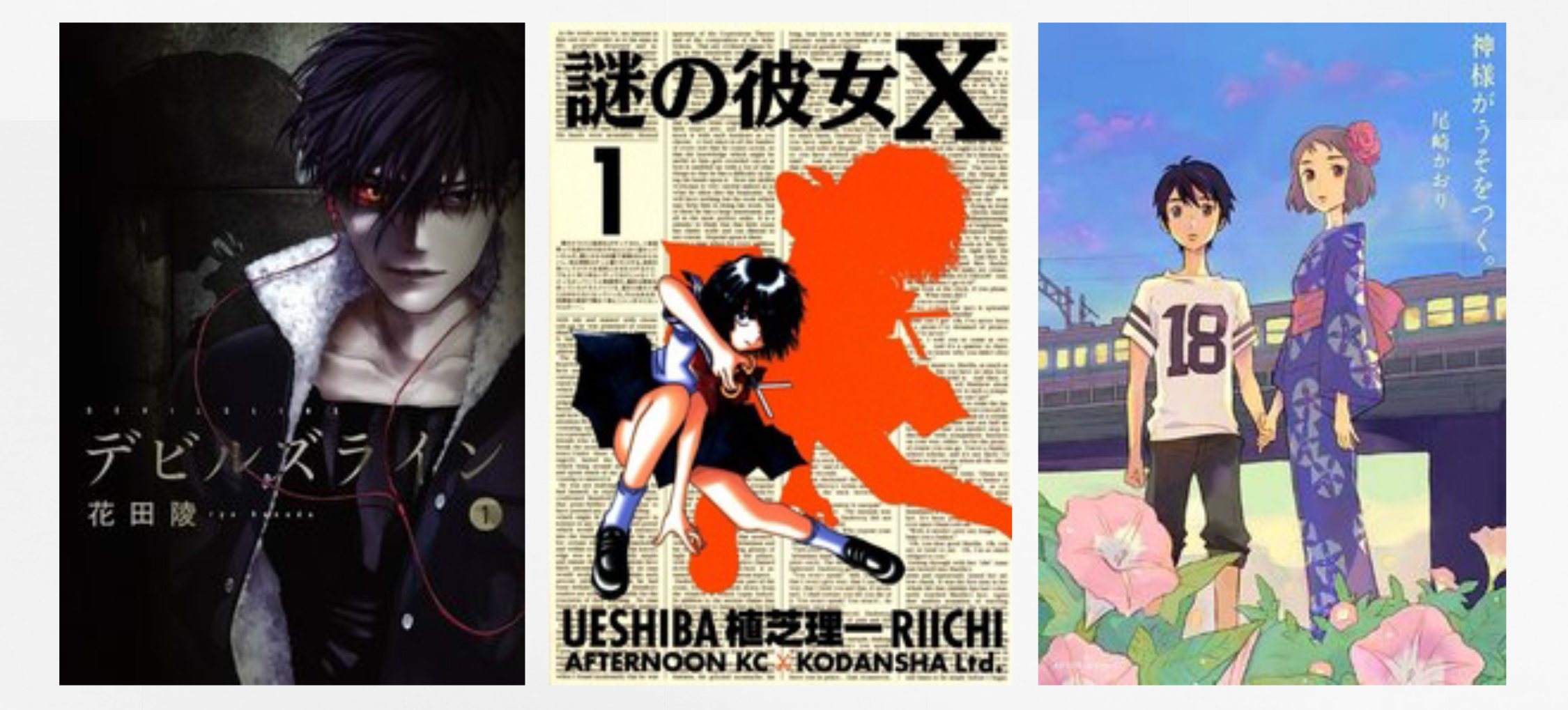 Summer Acquisitions
This summer was one of our biggest and busiest yet! With a number of new series and one-shots covering the wide-range of content that Vertical is known for, we are sure there will be something for almost every reader to dive into next year.
Here's what we have announced over the summer:
Nichijou, by Keiichi Arawi (March 2016)
Mysterious Girlfriend X by Riichi Ueshiba (March 2016)
Sukibayashi Jiro by Shinzo Satomi (March 2016)
FukuFuku: Kitten Tales by Konami Kanata (April 2016)
A Cop's Eyes by Gaku Yakumaru (April 2016)
The Gods Lie by Kaori Ozaki (April 2016)
Devilsline by Ryo Hanada (May 2016)
A Fall to Get Up For
Fall is around the corner and with it some big new debuts. With titles like Ninja Slayer, Tokyo ESP, Seraph of the End on the horizon, an already stacked line-up should be greatly enhanced. And we'll look at the other books a little closer in the coming months. Because this month we'll focus our spotlight on a work that deserves plenty of attention from readers: NISIOISIN's KizuMonogatari.
Within the Monogatari series, Kizu (as it is known in some circles) is considered to be the series prequel, as it details the life of Monogatari's lead Koyomi Araragi before what occurs in the two BakeMonogatari books. Something of an occult-mystery series, NISIOISIN weaves modern themes found in popular anime and manga, while including the supernatural elements, moments of horror, and high-stakes action. NISIOISIN's legendary wordplay is also in full-effect in this series, which only adds character to what may already be the most ambitious Japanese prose release of the year.
With an established anime adaption for most of the Monogatari series already available from ANIPLEX the brand was already at the top of most young readers' wish lists. And now with KizuMonogatari's debut just around the corner, we feel this release should fulfill a wish long held by western fans by finally completing and properly realizing NISIOISIN's "tale" in English.
Vertical Convention Tour 2015
It's summer so the Vertical tour bus is still making stops across the country. We've got three more destinations before retiring the bus for the year. And we hope to see you at some of these events.
And if you happen to pass by one of our panels, stick around for special giveaways featuring goodies from some of our hit titles.
Once again, whether in person at an event, or by following us here and on our various social media platforms, this summer Vertical has the content to keep you cool and up to date with what is the best in Japanese content today.
Image Copyrights – All Rights Reserved
Witchcraft Works © 2015 Ryu Mizunagi; Attack on Titan: The Harsh Mistress of the City © 2015 Hajime Iseyama and Ryo Kawakami; AJIN: Demi-human © 2015 Gamon Sakurai; Devilsline © Ryo Hanada; Mysterious Girlfriend X © Riichi Ueshiba; The Gods Lie © Kaori Ozaki; KizuMonogatari © NISIOISIN / Kodansha