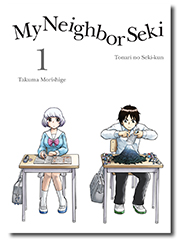 In almost every classroom there is that one kid that spends days staring off into space, daydreaming, and ignoring classwork. In the high school setting of My Neighbor Seki the person who does that more than anyone else is titular character Toshinari Seki. Every day Seki toils over his personal projects, usually giving them more effort than he does his studies. Whether making elaborate domino mazes or building his own desk-sized universes Seki never wastes a minute with education, instead he focuses on much more entertaining projects.
Penned by up-and-coming comedic cartoonist Takuma Morishige, My Neighbor Seki consistently finds new ways to entertain, while sticking to a simple formula and setting – high school.Whether Seki spends his school days delivering messages to classmates or playing Japanese chess, his actions are much more involved than they may seem at first glance. Easy to relate to and yet often surprisingly creative, through Seki Mr. Morishige is able to illustrate the curiosity and drive of youth while not having to resort to the gratuitous developing a story that embraces its limitations by pushing its limits with accessible visual humor.
So when readers need a pick me up or are in desperate search for something to entertain and inspire, Vertical Comics has their answer – My Neighbor Seki. Because within its 180 or so pages, there are at least a dozen awesome ways to find amusement and hilarity, all hidden from sight to most, in the back row.