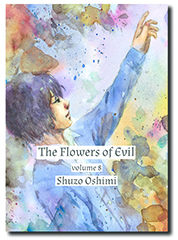 As the old year came to a close, one title shined brightly as a unique visual and narrative experience – The Flowers of Evil anime. With its unusual artistic direction, thoughtful soundtrack and cloy pacing the work caught the attention of a significant segment of the animation community and also rekindled America's fascination with Shuzo Oshimi's source material.
Now in its eighth volume, the current cast of Oshimi's shonen drama briefly takes a turn away from the angsty tension that was so thick for the first six or seven volumes in favor of a slightly more optimistic outlook. And at the core of this new perspective is Takao, who has found a new reason to come out of his shell. Once again motivated by the written word, his hunger for storytelling has opened his eyes to those around him. And all the while those around him who are witness to his blooming are seeing him in a different light. But has he learned anything from his past? Can the youth, who has experienced so much already, fully comprehend where he previously went astray? Will he continue to be a ghost and tail shadows those around him, or will he make a new narrative in his life's story when adversity raises its head again?
Now moving into its final arc, The Flowers of Evil continues to inspire debate amongst comic readers globally. While not standard shonen material, its cast and the way they gradually grow and mature has captivated a community looking for the next evolution in manga.