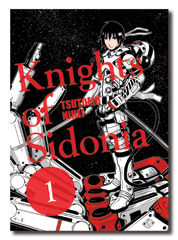 Happy Valentine's Day readers!
As a gift to the best manga fans in the English reading world we have two titles to share with you today. First is the debut of Vertical's newest manga series, Knights Of Sidonia. The most recent work by renowned comicker and world-builder, Tsutomu Nihei, of Blame and Biomega fame. Fans of Nihei's previous works won't be let down by Knights Of Sidonia.
As an homage to the space operas of the past, Sidonia is a tale of the last of humanity struggling to survive while on the run. Trekking through space fighting off aliens who have destroyed most of their kind is rendered with love in Nihei's unique and haunting visual style. Yet, unlike some of his earlier works, this manga is noticeably more cohesive and concentrated, paying plenty of attention to its characters and story. Here, Nagate Tanikaze, a young man who has lived his entire life up until the start of this story in isolation, is the newest soldier in the battle against a race of space giants called the Gauna. He is alone in this new world where humans now photosynthesize and new biological genders have come into play. Will lonely, passionate and hungry Nagate, be able to function within this futuristic society?
The idleness and desperation of space is portrayed to a subtle degree in Knights Of Sidonia, and it becomes increasingly haunting as it progresses. You'll feel for the characters trying to get by day to day in this cold reality. Between the crippling loneliness of space and the nauseating alien life forms trying to kill everyone, Knights Of Sidonia makes for the perfect Valentines Day present. …Really.