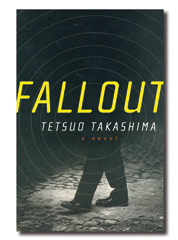 Over the last decade or so it seems as if the following controversy has been circulating in the news over and over again: freedom of speech and freedom of the press be curtailed if the government decides that there's a potential threat to national security? And with that in mind, to what extent does the public have a right to know about what goes on behind closed doors in Washington?
In Vertical's latest novel, Fallout, Tetsuo Takashima takes on these hot-button issues while delivering an observant, fast-paced thriller that will draw readers in from first word to last.
The two disturbing events happen almost simultaneously on opposite sides of the country  An editor at a small-town newspaper in California receives an envelope in the mail containing a diagram for making a nuclear bomb; and a political writer at The Washington Post has a message from "Mr. Curly" waiting for him when he gets to work. Twelve hours later, presidential adviser Frank Curly is found dead on a Washington, D.C. park bench, an apparent suicide.
As the journalists dig deeper into these seemingly unrelated mysteries, each discovers that things are not at all what they seem, and the connection between the two events could have far-reaching and terrifying consequences. And given the state of journalism and how at times it appears to be making the news itself, Fallout may describe much more than Washington's doomsday scenarios. It may be the conclusion for modern news media, as well.