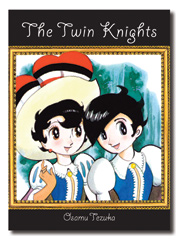 This week Vertical is proud to present the English language debut of Osamu Tezuka's shojo classic, The Twin Knights. A sequel to the hit gender-bending work, Princess Knight, Twin Knights follows Sapphire as she is now the Queen of Silverland. And much like in her own manga debut, Sapphire's children, in this case a set of twins, must overcome a series of fantastic almost fairy tale-like challenges to protect their realm.
While the themes may be quite familiar to readers of the original story, what will be completely new to Tezuka fans will be the look and overall aesthetic to The Twin Knights. Never before translated into English, Twin Knights was also never redone by Tezuka, giving readers an unaltered look at Tezuka's take on shojo from the early days of the format. Originally penned in 1958 for the legendary shojo magazine Nakayoshi, Twin Knights reveals a lighter side of Tezuka, who is still developing his skills for visual storytelling while relying on timeless tropes such as slap-stick comedy, swash-buckling action, and teen romance.
So at a time when anything Tezuka seems fashionable The Twin Knights is a must-read that should charm its way into every true classical comic aficionado's collections.