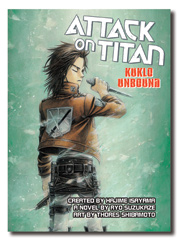 Discovered as a newborn crying in a pile of Titan vomit, Kuklo  was known as the "Titan's son," and spent most of his young life in misery, caged and tormented. Then one night, his captor's daughter, Sharle, snuck into the shed where Kuklo was kept, determined to kill the dangerous monster in their midst. Instead, her heart went out to her intended victim, who was as terrified of her as she was of him.
So begins a fast friendship between the pampered princess and the abused outcast. Sharle starts sneaking food to the captive Kuklo, as well as teaching him to speak and read, and behave like a human. And when Kuklo knows it's time to make a run for it. Sharle is by his side, willingly leaving her privileged world for the rough and dangerous life of a fugitive in Wall Sheena's underground city.
Made of delicate porcelain on the outside, and Iron Bamboo on the inside, Sharle is both Kuklo's savior and the force that keeps him focused on surviving. As he forges ahead in his quest to confront a Titan and put to rest his fears that he is of their breed, Kuklo knows that if it weren't for Sharle, and her good luck knife and persistent efforts to keep him alive, he would have been a Titan's lunch long ago.