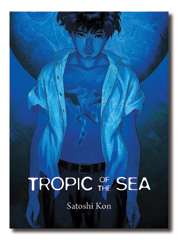 The world was robbed a young talent when Satoshi Kon succumbed to cancer two years ago. After directing genre defining works such as Perfect Blue and Paprika, the man will long be remembered as a creative mind who was more than willing to dive into the human psyche through his films and television endeavors.
But before he ever took the helm of an animated project, Kon was a cartoonist with an apt pen and a flare for the fantastic. Trained as an assistant to the manga legend Katsuhiro Otomo, and a part of the direct linage of artists inspired by the science-fiction comic master Moebius, Kon's works are rich in visual detail and often have hints of not only the surreal imagery of his films but also the youthful power drawn from his masters.
Tropic of the Sea ("Kaikisen" in Japanese) is Kon's first feature-length work. Penned in the late 80's while Kon while still in college it is a challenging title that looks at what continues to be a topic of concern in Japan today—population shift and civic development. However, in typical Kon form there is a bit of a twist behind this dilemma. In this case, the legend of a mermaid's egg looms over a small Japanese fishing village and potential development could end up not only threaten whatever lurks in the sea but also mean the ruin of this small and tight-knit community.
Mythos, nature and economics all come into play in this richly drawn one-shot. And as an added bonus, Vertical's editions includes eight portraits drawn by Kon for the serialized edition along with six-page afterword from the comic artist as he reflects on his days as a young director and his transition to the animation industry from the manga world.