New Releases
As 2016 comes to a close, some of us in the Vertical office have begun looking back at what was a tremendous year. Over the past twelve months we have released a number of success stories, and made even more new customers and readers along the way.
With only a few days left in the year, we are also looking forward to 2017, which is already looking like it could end up being equally, if not more, impressive.
But before we welcome the new year, we still have a handful of books to share with you as we move deeper into winter.
Tsutomu Nihei's BLAME! returns with the second volume of the Masters Edition. Already a cult hit, this new oversized omnibus release has rekindled a fandom for the 2017 Inkpot Award winning author and his now legendary debut series.
After searching the massive world known as "The City" Kyrii is discovered by the Administration. It warns him and Cibo of The City and its Safeguards, but also informs Kyrii of how it can do very little to aid Kyrii on his mission. And those Safeguards will go to any means to wipe out unregistered organisms from the net, as Kyrii will soon find out while on the mend.
In Mysterious Girlfriend X, part 4 the leading characters are seeing double. Or are they seeing triple? Are they ill or is there something more curious behind all of these doppelgangers.
Tsubaki meets another Urabe; meanwhile, Urabe sees hundreds of Tsubaki's. But how does this happen? Well, on a random afternoon Tsubaki thinks he runs into Urabe on the street surrounded by people. He thought his girlfriend was being bullied, but no, unbeknownst to him that was not Urabe at all!
Moreover, the two Urabes know each other and they are actively participating in a plot to hide each others identity. Life was complicated enough with one Urabe in Tsubaki's life. Two could bring even more confusion to his already delicate heart. And why is the real Urabe seeing hundreds of Tsubaki's? People sure find motivation in weird places.
In Devils' Line, volume 4 Tsukasa is caught in the crossfire between her Devil-allied friends and a new terrorist organization developed to exterminate Devils and those who harbor them. Unaware of such a group, just as she had been unaware of vampires until recently, Tsukasa is uncertain of how to react to not only the violence caused by these radicals, but upon interacting with them as a hostage, she wonders what their real motive is when it seems their tenets are hypocritical if not even malicious.
With Tsukasa missing Anzai and Lee must devise a plan to free her safely. The suspects are armed and no one knows how many of them are involved. To go into this mess is risky enough without having to worry about saving lives but when the suspects seem to be at odds with each other even approaching such a situation seems like playing with chaos.
Such is the life of a half-vampire and the vampire protection unit. And it is only set to get even more intense as this latest case unfolds.
Meanwhile with The Complete Chi's Sweet Home, Part 4 we have reached the final installment of this beloved, best-selling series. This latest omnibus contains volumes 10, 11 and 12 and wraps up the series as our furry heroine Chi has to make a difficult decision about her home. Where is home? As readers will find out, it is where the heart is!
In BAKEMONOGATARI, Part 1 there's a girl at school who is always ill. She routinely arrives late, leaves early, or doesn't show up at all, and skips gym as a matter of course. She's pretty, and the boys take to whispering that she's a cloistered princess. As the self-described worst loser in her class soon finds out, they just don't know what a monster she is.
So begins a tale of mysterious maladies that are supernatural in origin yet deeply revealing of the human psyche, a set of case files as given to unexpected feeling as it is to irreverent humor. So begins the legendary novel that kicked off the MONOGATARI series, whose anime adaptations have enjoyed international popularity and critical acclaim.
This first of three parts introduces Senjogahara and Hachikuji, and fans of the blockbuster prequel KIZUMONOGATARI will be delighted to meet their favorite crazies again: the weirdly reliable narrator Araragi, class president among class presidents Hanekawa, shady problem-solver Oshino, and a certain pale, blonde former vampire.
---
Author Spotlight: Makoto Shinkai
In some ways 2016 was the year of Makoto Shinkai. This was especially true in Japan, where his latest film Your Name. is now the second highest grossing movie of all time. As his movie breaks records and as his star grows, the works of Shinkai are now being reviewed and analyzed with greater scrutiny to uncover the source of his talents.
Vertical has been by Shinkai for a number of years now. Having published three of his manga to date, we have seen his story-telling and artistry develop with each new property. And with each new work he produces we have been equally surprised and thrilled by his development. From the sci-fi tinged romance of Voices of a Distant Star to the visual force that is the fantasy-inspired Children Who Chase Lost Voices, Shinkai's catalog covers a range of genres and themes, but common threads in all of his works are his use of scenery and a sense of sentimentality.
The success of Your Name. will likely spread to the US in 2017 as more theatrical screenings and physical media editions will be available. But in the meantime, readers can experience his works today! Whether by watching his films on CrunchyRoll or through Sentai Films, or reading his books by Vertical – 5 Centimeters per Second, Garden of Words, or A Sky Longing for Memories – there is plenty to explore in the growing works of Shinkai. 2017 will be the perfect time to do so, as together we can help make 2017 a year of Makoto Shinkai in the West!
---
New Acquisition!

Speaking of Makoto Shinkai, we are proud to announce the acquisition of one of his most recent manga adaptations!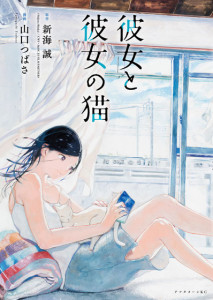 She & Her Cat by Makoto Shinkai and Tsubasa Yamaguchi
Adapted in 2016 by Tsubasa Yamaguchi this manga retells Makoto Shinkai's first animated work by the same title. Shinkai released She & Her Cat as a seven-minute video on CD-Roms sold at small anime/manga events. It would go on to win DoGA's CG Anime Contest Grand Prix in 2000. The success of this self produced project would eventually catch the attention of a small animation studio and distributor Comix Wave, and it serves as a primer for what would become a seventeen plus year career in animation.
A tale of loneliness and discovery, She & Her Cat in some ways lays down the foundation for the World of Shinkai. Yamaguchi does a wonderful job not only retelling Shinkai's story, she also adds more visual depth and context to this tale of a single woman and her cat.
Expect to see Vertical's translation of this beautiful adaptation in stores Summer 2017!
---
Future Releases:
And here is what to expect over the next few months:
Junji Ito's Dissolving Classroom (January 2017)
NISIOISIN's Decapitation – Kubikiri Cycle – (January 2017)
Keigo Higashino's The Name of the Game is A Kidnapping (Early 2017)
Chihiro Ishizuka's Flying Witch (March 2017)
Various Authors, Ghost in the Shell (March 2017)
Shuka Matsuda and Nakaba Suzuki, Seven Deadly Sins (May 2017)
---
Image Copyrights – All Rights Reserved
BAKEMONOGATARI, Part 1 © 2016 NISIOISIN, BLAME!, 2© 2016 Tsutomu Nihei, The Complete Chi's Sweet Home, 4© 2016 Konami Kanata, Devils' Line 4 © 2016 Ryo Hanada, Mysterious Girlfriend X 4 © 2016 Riichi Ueshiba, 5 Centimeters per Second © 2012 Makoto Shinkai – CWF – Yukiko Seike, The Garden of Words © 2014 Makoto Shinkai / CoMix Wave Films, Midori Motohashi, She and Her Cat © Makoto Shinkai/CWF-S&HC EF Film Partners/Tsubasa Yamaguchi 2016, A Sky Longing for Memories © 2015 Makoto Shinkai / CoMix Wave Films