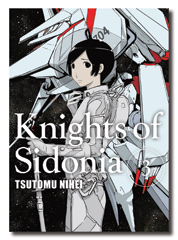 Summer is here and with it come the big blockbusters: Superman, Ironman, Gundam and Pacific Rim! Wait Pacific Rim and Gundam…
Anywho, while it may be early to call Tsutomu Nihei's latest a blockbuster, with an animated TV series recently announced for 2014, the folks at Vertical feel we may have next year's summer hit in our grasp right now.
This month we released the third volume of Nihei's attempt at a space opera. Tensions are high as the Sidonia have encountered a new form of alien foe. The shape-shifting Gauna have launched an attack with a new look and feel that may be eerily familiar to the Sidonia's young heroes. This new approach is meant to cast doubt in the hearts of the many fighter pilots that engage with the Gauna, so will Tanikaze and his colleagues be able to vanquish this new threat and will they be able to capture a specimen to figure out how far these aliens have come over the last few hundreds of years?
And then, talking bear and den-mother, Lalah Hiyama recalls memories of early encounters with the Gauna. These memories all triggered by her new found moments with Nagate Tanikaze.
Before Nihei's new hit takes to the small screen next year, why not dive into the depths of science-fiction story-telling and comedy that is Knights of Sidonia!