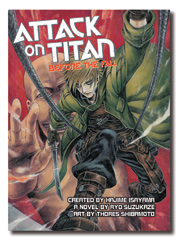 A generation before Wall Maria fell, before the Titans breached humanity's defenses, before Eren and Mikasa fought to defeat the monsters. . . there was a young blacksmith named Angel Aaltonen, tasked with creating the weapons and devices to take on the  brutal foes.
As the story opens, the future of humankind looks bleak. There is no organized plan for fighting the Titans, the grotesque, sexless creatures whose appetite for humans seems insatiable. Not only are they enormous and destructive, but they are invincible. Traditional weapons are incapable of killing them, and if they are wounded or lose a body part, it just regenerates itself. The Survey Corps is ridiculed for their ineffective expeditions that result in countless soldiers' deaths but make no progress against the Titans.
Among his fellow craftsmen at the arms workshop, Angel is considered a master inventor. Angel never really gets the chance to use his talents, however, since the workshop's products are made to order. But as the citizens of the walled cities become increasingly desperate, Angel has an inspiration for a piece of equipment that will take away one of the Titans' major advantages: their height. The Vertical Maneuvering Equipment is a brilliant feat of engineering that will play a critical role well into the future, as humanity fights on to rid themselves of the Titan scourge.
In his Afterword, Ryo Suzukaze writes, "In this book, I tried to bring readers to the world of Attack on Titan from a slightly different angle as compared to the original by doing things like making the protagonist, Angel, a craftsman of arms. It explains the inner workings of things such as materials, manufacturing, processes, facilities, and so on. . . . I went into a lot of detail about it, but one item I hope you pay special attention to is the Vertical Maneuvering Equipment. Without it, Attack on Titan would never get off the ground."
To read a free preview, click here.