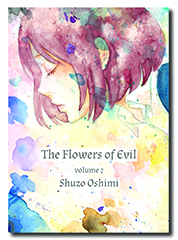 Over the years, Vertical has consistently challenged the North American manga market with eclectic and significant graphic works from Japan. Having such luminaries as Tezuka, Takemiya and Kon under our umbrella has set us apart from the rest as the vanguard for quality. Now it is becoming clear to us, and to a growing audience that we have uncovered a new challenger, whose latest work is setting a community ablaze with his very personal narrative and surprisingly memorable characters.
Shuzo Oshimi's The Flowers of Evil snuck up on a large number of people when it made its English language debut in 2012. Now in it's seventh volume it is poised to shock again, albeit with a new tone and attitude that is more than appropriate to the story's growth and development throughout its acclaimed run.
In this most recent volume, readers are treated to the climax of this series' second arc. And upon experiencing its shocking conclusion, we are then introduced to a more modern more familiar setting with a more mature Kasuga now in high school. The tone has changed, as well. But deep inside, waiting for the appropriate moment, is something hot, dark and compelling. Making it one of the most anticipated releases in our growing catalog.