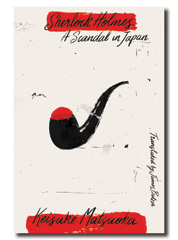 Where was the legendary detective between the time he supposedly fell off a cliff and died during an altercation with arch-enemy Professor Moriarty, and his surprising reappearance in Baker Street three years later?
In SHERLOCK HOLMES: A Scandal in Japan, bestselling mystery writer Keisuke Matsuoka (the "God of Mystery") suggests that Holmes was in Japan, helping Hirobumi Ito, an old acquaintance – and the country's first Prime Minister – unravel a knotted tangle of politics, deceit, and international power struggles.
The trouble starts in 1891, when Nicholas Alexandrovich, the Tsarevich of Russia, is on an official tour of Meiji-era Japan, and is almost assassinated. Despite Japan's efforts to fittingly punish the would-be killer, tensions escalate over the Otsu Incident, to the point where many fear there will be war with Russia. Enter Sherlock Holmes, to figure out what really happened and to help defuse the incendiary situation.