As we move into the final month of the year, Vertical continues to progress as if there will be no tomorrow. By bringing the best in contemporary Japanese prose and comics we'll also be filling stockings and hearts up with glee and wonder.
Every December is generally been an exceptional month for Vertical. This year, however, Vertical and Vertical Comics plan to trump previous efforts by bringing forth some of the biggest names in the industry within a few weeks' span.
Fiction, nonfiction, manga…all from some of the biggest names in Japan are in store and we are more than certain they'll be part of our readers' holiday season this year.
6 Books for Reading…
New Releases
MONOGATARI, Mobile Suit Gundam, and Ninja Slayer roll out to the North American J-Pop market with massive releases following success in Japan and across Asia.
This is it, Char and Amuro for one final showdown amongst the stars. The final volume of The ORIGIN wraps up this critically acclaimed series and then provides a glimpse into the universe after what transpires in the One-Year War.
In volume 2 of Ninja Slayer readers are treated to two more ninja tales. In "Killzone Sumo Wrestler" high-powered salaryman kill time and get their rage on by hunting down genetically engineered freaks in an abandoned mega-mall. Unfortunately for them as their kills pile up they would cross into ninja occupied territory. And in "Last Girl Standing" a She-Ninja is finally revealed. Yamoto's abilities were latent until the day she was pushed to the brink of death…by another soon to be high school ninja.
In the second omnibus collection of Tokyo ESP a psychic hippo is on the loose! Thankfully, Rinka and her team have been training lately. And that includes Peggy, their trusty flying fish eating penguin. So if psychics and mutants running amok in Tokyo wasn't enough, now it is like a super-powered zoo is on the loose as well!
The eighth volume of Witchcraft Works begins to reveal the origins of Ayaka and Honoka's long lasting relationship. A few flashbacks reveal secrets that were deeply suppressed inside the magical pair. And once again, there is more little sister trouble. So moe…
After a short delay, NISIOISIN's KIZUMONOGATARI is finally shipping. The beloved franchise is finally making its print debut in English with a brand new cover treatment by MONOGATARI illustrator VOFAN. Already shaping up to be a J-prose sleeper hit, KIZU will likely be the most demanded stocking stuffer for J-Pop fans this winter.
Finally, on a slightly more somber note, we will also be releasing a new paperback edition of A Slow Death. This non-fiction recollection of the horrors of radiation poisoning has become increasingly poignant in the aftermath of the Tohoku Tsunami and Fukushima Daiichi Incident.
---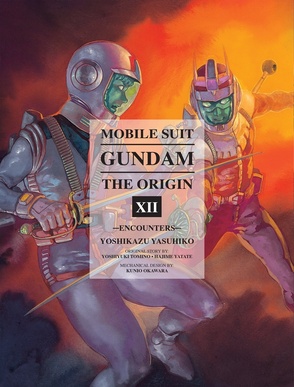 One Last Look at THE ORIGIN

A few years ago everyone, and we do mean everyone, thought Mobile Suit Gundam in English would be a pipe-dream. No one thought it was a good idea.
Now three years later, here we are about to release the twelfth and final volume of this best selling series. Penned by the legendary Yas, The ORIGIN is not only a retelling of the original First Gundam story from 1979, but as readers would come to find out the series ends up building on that series by digging deep and expanding the role of Zeon in this story.
Presented in hardcovers, similar to the Japanese Collectors' Edition released by Kadokawa, The ORIGIN almost instantly became must buys in the West. Readers praised the deluxe presentation and showcased their collections in numerous reviews and photographs since the first volume dropped in the Spring of 2013.
In the final volume of The ORIGIN we send off this modern classic with a number of extras including an interview between Makoto Shinkai and Yas, and a final afterword from the author himself. Easily a worthy farewell for a title that completely changed the landscape for manga in North America.
And what about the Gundam property after this… Stay tuned to this newsletter for details. In the meantime…
Thank you, Yas for all your hard work! It was an honor to join you in this endeavor.
---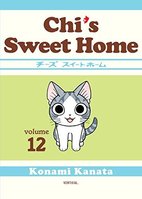 Digital Stocking Stuffers

Earlier this month Vertical Comics + Kodansha Advanced Media announced new digital editions of a number of Vertical Comics titles, constituting 24 previously digitally uncollected volumes, to be distributed through comiXology, iBooks,Kindle, Kobo, and nook.
Vertical Comics, working in conjunction with Kodansha Advanced Media (KAM), will see more digital releases this holiday season. Previously digitally uncollected series Ajin: Demi-Human, The Flowers of Evil, and Witchcraft Works made their digital book debuts on December 8.
In addition, Chi's Sweet Home, Knights of Sidonia, and The Drops of God, currently already available at major digital bookstores, will also see release for the first time on the comiXology platform. All 6 series, up to the current print volume, constituting over 50 volumes of material, are on sale on comiXology, iBooks, Kindle, Kobo, and nook. So rejoice this winter as readers now have even more choices for their eBook needs, while Vertical and KAM further expand their digital catalogs.
---
Future Releases:
As you can see there is a number of new properties from an equally diverse range of genres and styles. From josei romance to light novels and thrilling Japanese prose to surreal Japanese gag manga, Vertical has treasures for almost every reader's tree.
So as we close out the year, why not consider a Vertical book (or two) to gift a loved one, or yourself, this holiday season. We're certain they'll leave you jolly, healthy and wise.
Image Copyrights – All Rights Reserved
Witchcraft Works © 2015 Ryu Mizunagi; A SLOW DEATH © 2015 NHK; Ninja Slayer © 2012 Ninj@ Entertainment; Mobile Suit Gundam: The ORIGIN © Yoshikazu Yasuhiko 2012, Sotsu – Sunrise; KIZUMONOGATARI © 2008 NISIOISIN; Tokyo ESP © Hajime SEGAWA 2011