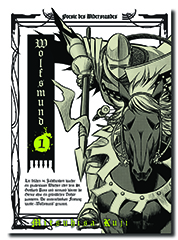 These days when people associate Vertical with manga, the first thing that comes to mind is seinen comics. And in the West, unlike in Japan where seinen are often dramas, these men's comics are often hard-edged science-fiction or over-the-top fantasies in the vein of Kentaro Miura's Berserk or Ryo Mizuno's Lodoss Wars. Well, Vertical is no stranger to sci-fi, having released Gundam the Origin, Knights of Sidonia and Heroman over the past year, but fantasy is something we have neglected as of late…Until now!
Enter Wolfsmund! The debut work from Mitsuhisa Kuji is truly the next in the line of Berserk-style fantasy. And this is partially due to the fact that Ms. Kuji previously worked on Berserk as an assistant to Mr. Miura. From the very first page, the art style and dark tone bleeds fantasy. Set in medieval Europe, around the creation of the Swiss Confederacy Wolfsmund is a retelling of the legend of William Tell, but its lead character is not a hero my any means. Instead the lead is the entity that is oppressing this region in the Alps – the Wolf's Maw (known in that region as the Wolfsmund.)
In Wolfsmund the objective is to topple the transit station nestled in the St. Gotthard Pass. But as readers will soon find out, despite the need for freedom and unity in that region, Mitsuhisa Kuji consistently has the Wolfsmund exert its will on the region…and to an extent its fantasy hungry readership.
Vertical is happy to present a short preview of Wolfsmund with the help from its original publisher enterbrain!. Enjoy. And purchase Wolfsmund part 1 of 4 at better bookstores today.
Click here for the Wolfsmund Preview!