Among adult readers in Japan Black Jack is Osamu Tezuka's most popular achievement, and perhaps the most close to the creator's heart, as Tezuka considered entering the medical field—majoring in medicine in college—before devoting his life to comics. Black Jack is a genius surgeon who never acquired his license due to his clashes with the medical establishment. He is hired out by anyone willing to pay his exorbitant rates and is perceived as a heartless rogue because of his enigmatic nature and antisocial manner. But as readers will soon discover, that is not the whole story.
Vertical, Inc. will release the Black Jack episodes in the order that Tezuka indicated for a hardcover "Deluxe Edition" planned before his untimely death in 1989 at the age of 60. Two earlier volumes of translations were released in 1998-99, but featured only 17 episodes of the nearly 250 that Tezuka created.
Each 300-page volume of the Vertical, Inc. series will feature a dozen-plus stories, most published in English for the first time. The Vertical volumes will also embody the high production standards that readers have come to expect, not only from the publisher's Tezuka output, but also its line of Japanese pop fiction.
Click here for a free preview of Volume 1.
Click here for a free preview of Volume 2.
Click here for a free preview of Volume 3.
---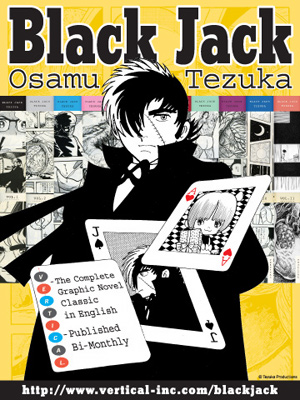 RETAILERS ONLY:
Contact info@vertical-inc.com for information on how to obtain this 18" x 24" promotional poster.
---
The news of Osamu Tezuka's Black Jack finally coming to the States by virtue of Vertical, Inc. just got better.

Diamond Comic Distributors has commissioned Exclusive Hardcover Editions of the first three volumes of the series. Each hardcover volume sports a unique cover different from those of the regular paperback editions. The hardcover volumes also include an additional story that will not be included in the regular soft cover series. These stories have been locked away at Tezuka Productions for decades by request of Tezuka himself, and have only recently been re-released in Japan.
Most importantly, each Exclusive Hardcover Edition will be limited in number.
Volume 1: Limited to only 1,500 copies!
Volumes 2 and 3: Limited to a mere 1,200 copies each!
These special editions are only available through specialty comic shops.
To find comic-book shops near you, call 1-888-comic book (1-888-266-4226), or visit the comic shop locator service at www.comicshoplocator.com. The site supports residents of the U.S. and Canada, as well as the United Kingdom and Ireland