Kenzo Kitakata, Japan's undisputed don of hard-boiled and mystery writing, has never had any of his more than one hundred novels go out of print. Ashes, his brilliant portrait of an opinionated, irritable, shrewd, and lonely yakuza, and Kitakata's first work to appear in English, is considered his masterpiece. Full of originality, and a prime example of Kitakata's honed style and marvelous eye for detail, Ashes has recently been a "VLS Beach Read" for The Village Voice and a Book Sense 76 selection.
Tanaka, the novel's hero, is a middle-aged yakuza. Once regarded as the heir to his gang's aging boss, he has fallen out of favor and appears stuck as the head of one of the gang's sub-branches. Tanaka is not your typical gangster, though. Not obsessed with expensive suits, jewelry, or prize women, he is a convincing and heartbreaking study in memory and ambition.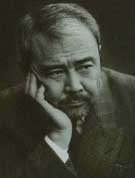 Filmmakers have cinematized many of Kitakata's incisive works, including Ashes. One of Japan's most popular and revered novelists, and a past president of the Japan Mystery Writers Association, Kitakata's stature is also evident from the dozen literary prize committees on which he sits. He lives in Kawasaki, Japan, near Yokohama.