As more and more Americans dedicate themselves to eating more healthily—with fears of obesity, diabetes, and heart disease increasing every day—they are eschewing fast food and returning to the kitchen to cook nutritious meals at home. But though the desire to cook at home grows greater, the 21st-century lifestyle leaves people less time to cook. The Easy Japanese Cooking series makes it possible to cook your dinner… and eat it, too!
The Easy Japanese Cooking series is also easy on your wallet, which is great news in any economy. Each book provides over 50 recipes with easy-to-follow instructions for flavorful and filling meals—all for far less than the cost of the average dinner for two.
Lavishly illustrated with full-color photos, these books will have you cooking delicious dishes in no time!
"Donburi Mania is the first of a must-have series that introduces simple and delicious neo-Japanese meals. Some are made completely with ingredients you probably already have at home… Some new and unique flavors even to native palates."
—Yuuyake Shimbun
"It couldn't be simpler. No exotic equipment needed and more importantly…no special skills. I'll be eating my way through each of Kentaro Kobayashi's tempting recipes."
—Mostly Food Journal
"The thing with cookbooks is that they have to inspire you to cook in order to inspire you to buy them. Kobayashi's cookbook is packed with recipes you simply can't find cooked for you in a restaurant or shack or whatever even if you live next to your local Japantown. Here's a cookbook that will send you from the book store to the grocery store and will make you want to cook."
—Bookotron.com
"Simple, fast food, with good flavor, and some personality that is lacking in more than a few of today's cookbooks."
—Ochef.com
"One doesn't have to spend years under a Japanese cook to eat authentic Japanese food… A fine introduction to meals from the land of the Rising Sun."
—Midwest Book Review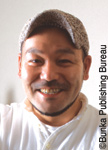 Kentaro Kobayashi has appeared on television, in magazines, and on radio, becoming popular with the motto "Nice and easy, practical food with style." His best-selling cookbooks are all about transforming convenience-store products into attractive hot meals.
He frequently incorporates his artistic training working as a chef and as an illustrator for magazines and book stores. To date, Kentaro has authored or co-authored more than 15 cookbooks.