Saki and her schoolmates enjoy what they consider normal lives in a peaceful provincial setting. Only, their village cannot be of today; its customs differ from those of any known Japan. When the buddies set out on a fateful journey, what awaits are shattering truths—for them and for us.
Past winner of the Japan Horror Novel Grand Prize and the Japan Mystery Writers Association Award, genre-spanning novelist Yusuke Kishi garnered the 29th Japan SF Grand Prize with From the New World, here adapted with his merry blessing and with eye-opening pizzazz by rookie comics artist Toru Oikawa.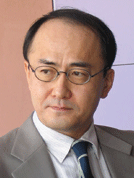 Yusuke Kishi was born in 1959 in Osaka. He graduated from Kyoto University with a degree in Economics. After working for a life insurance company for several years, Kishi started his writing career as a freelancer. He has twice won the coveted Japan Horror Association Award, and boasts bestselling status in Japan.