In the seedy Shinjuku district of Tokyo, Detective Samejima silently stalks his prey. To the yakuza gangsters he is the "shark" for his relentless pursuit of justice regardless of the cost. To his superiors, he is a thorn not to be pulled; his dismissal could unleash secrets capable of tearing down the force. None will be his partner, a risky proposition made more dangerous by their rough turf.
But now there's a serial killer on the streets, and he's hunting police officers. While the force will lose not only more men but its face if the spree continues, the use of a mysterious firearm stymies the investigation. Samejima is forced to choose between keeping to his maverick ways and working with HQ.
Filled with non-stop action, palpable tension and gritty characters, Shinjuku Shark, the first installment of Japan's bestselling ongoing series, will sink its teeth into you from the start. Prepare for a relentless journey of suspenseful twists and turns that will leave you breathless.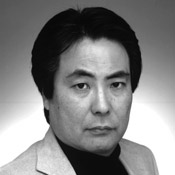 Arimasa Osawa has received the Eiji Yoshikawa New Writer Award, the Japan Myster Writers Association Award, and the Naoki Prize for his Shinjuku Shark novels. Many of his other hardboiled works have also been awarded prizes and adapted to the screen.